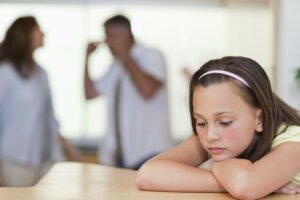 Custody addresses who will be responsible for the care, control, and maintenance of a child or children.  Custody can and should be resolved amicably and responsibly in the best interests of the child.  Ronald V. Thomas, a reputable and skilled Phoenix divorce attorney, will assist you in achieving such a resolution.
CUSTODY: WHAT TO EXPECT
The issue of custody generally arises when the child's parents file a Petition for Dissolution of Marriage to divorce.  However, custody may arise in non-marital relationships as well.
There are two types of custody: physical and legal.  Physical custody awards the custodial parent with the duty of the child's day-to-day care and residence.  Legal custody, or Legal Decision Making, awards the custodial parent with the legal right to make decisions for the child, such as educational, medical, and religious.
These two types of custody may be held by the parents in a number of ways:
Joint: the parents equally share physical and/or legal custody.
Primary: one parent has more custody (physical and/or legal) than the other.
Sole: one parent has complete physical and/or legal custody.
If the parties agree on Joint Legal Decision Making, they must submit to the court a signed, written parenting plan that addresses the rights and duties of each parent, the child's residence, vacation and holiday schedules, and other terms.
Should the parties disagree, the court will determine custody and visitation (Parenting Time) based on the child's best interests.  When making that determination, the court will consider, among other factors:
The mental and physical fitness of both parents and the child.
The wishes of the parents and the child.
Who has been the child's primary caregiver.
As a savvy Phoenix divorce lawyer, Mr. Thomas will counsel you regarding how these and other custody laws affect your unique case.
RETAINING FAMILY LAW COUNSEL
Custody is a delicate issue for all parties involved.  Mr. Thomas has represented mothers, fathers, and other parties in all aspects of custody.  He provides his clients with the representation and support required to resolve these sensitive issues,
As an experienced Phoenix divorce attorney, Mr. Thomas serves clients with the utmost attention, commitment, and personal care to achieve a successful result to whatever custody situation they face.