Unmarried Fathers And Adoption In Arizona | Father's Rights Attorney | Divorce For Men
March 10, 2023
In July 2021, the Arizona Supreme Court issued a disturbing ruling, although the Arizona Supreme Court understandably had to rule the way it did. Here is what happened. A man ("Father") was living with a woman ("Mother"). She got pregnant. She moved out. After she moved out, Father wisely hired an attorney and filed a claim of paternity with the putative father's registry in Arizona. If you are a male and you may have fathered a child, you need to read A.R.S. §8-106.01 and comply with it to preserve your rights to a paternity claim and to prevent an adoption agency from adopting the child without your consent.
Next, Mother decided, on her own and while she was still pregnant, to put the child up for adoption. An adoption agency got involved. The adoption agency was required to notify the father of the intended adoption. There is a specific form of notice that is required to be served on the potential father, which was properly done by the adoption agency. The notice stated that Father had 30 days to file AND serve on Mother a paternity petition and summons. Father was represented at the time. Unfortunately, due to an error by the attorney's paralegal, the paternity case did not get filed and served before the outrageously short 30-day deadline.
Mother and the adoption agency both filed a motion to dismiss the paternity petition, and the judge ruled in their favor. Father appealed, hoping that an appellate-level court would have some sympathy on him because he was only 16 days late and the untimeliness was due to excusable neglect. The Court of Appeals would not even consider his case. Ultimately, the Arizona Supreme Court accepted review of the dismissal.
But the Arizona Supreme Court, in a 10-page decision, refused to allow Father to proceed with his paternity case. The Arizona Supreme Court noted that "This Court will not recast a statute under the guise of interpreting it to avoid an unpleasant result because such action would do violence to the law itself. If there is a remedy in these circumstances, it lies with the legislature. This Court is bound to apply the law as written and, therefore, we affirm the dismissal of Father's paternity action." Wow. This poor guy will never have rights to his own child because of a ridiculously short 30-day deadline. The relevant statute is A.R.S. §8-106(G).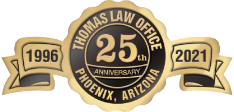 Serving Phoenix, Scottsdale, Mesa, Tempe, Paradise Valley, Glendale, Peoria, Surprise, and the Greater Phoenix, Arizona Metropolitan Area