Arizona Divorce Lawyer: How Are Household Furnishing Divided During Divorce?
December 30, 2014
When preparing to separate their shared property during a divorce, most married couples think about how to split up the big-ticket items such as the cars, the valuables, etc. While these are important to consider, many couples forget about the items that may seem less important, such as the decorations, linens and basic household tools that they have accumulated. It may seem strange, but a Phoenix divorce attorney knows that considering how to divide the household furnishings is an important but often overlooked step in the separation process.
Different Standards of Value
The issue is that most low-value household tools such as kitchen utensils and small furniture are not worth very much on the market yet would be considerably expensive to replace. Think about what's in your kitchen drawers: the total resale value of all your spatulas, tongs and wooden spoons would probably not exceed $10 if you sold them at a garage sale. However, buying a new set of utensils from scratch would probably cost someone more than a hundred dollars.
Property in a divorce is typically valued according to its fair market value, and failing to stick to this standard might cause your divorce negotiations to fail, as your Phoenix divorce attorney might warn you. However, there are alternate standards of value that might be more useful. The parties can try to research current prices for goods or have them appraised by a neutral third party, but these steps are time-consuming and often not worth the effort.
Rather, it might be better to divide the household goods by utility, such that one person takes one set of linens and the other takes the other or having one party take the daily dishes while the other takes the special occasion dishware. Compromises such as this can make the divorce more amenable and efficient.
Getting Help from a Divorce Lawyer
For more information on the most efficient way to divide your marital estate, consider talking to a Phoenix divorce lawyer at Thomas Law Office, PLC, at (602) 788-1395.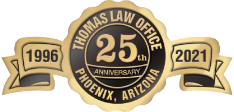 Serving Phoenix, Scottsdale, Mesa, Tempe, Paradise Valley, Glendale, Peoria, Surprise, and the Greater Phoenix, Arizona Metropolitan Area