What Are The Duties Of A Trustee In A Ch. 7 Bankruptcy Case? | Chapter 7 Bankruptcy Attorney
May 9, 2018
In a Chapter 7 bankruptcy case, the trustee has a multitude of duties. The first duty is to verify whether the Chapter 7 bankruptcy debtor qualifies for a Chapter 7 bankruptcy. The trustee will examine the statements and schedules filed by the debtor's attorney to see if the debtor satisfies the basic eligibility requirements. For example, the debtor's income to expense ratio will be reviewed to ensure that it is where it should be; the debtor's assets and claimed exemptions will be examined to see if anything can be seized from the debtor and distributed to the creditors in that case; the debtor's answers on the Statement of Financial Affairs will be closely examined for improper transfers, questionable positions, and other suspicious behavior.
The Means Test will be examined – if it was filed (not all Chapter 7 debtors need to prepare and file a Means Test) – to see if the there is a presumption of abuse of Chapter 7 by the filing debtor; etc. The bankruptcy trustee also will contact the debtor and request verification of various assets and debts. The Chapter 7 bankruptcy trustee will review bank statements, pay stubs, business records, tax returns, and other documents to screen for issues that can be pursued against the debtor. The debtor should realize that the trustee is NOT the debtor's friend. The trustee's duty is to the creditors as a whole. It is the trustee's job to make sure that the debtor qualifies for a Chapter 7 bankruptcy and then to seize any assets and/or pursue any claims against the debtor that would benefit the creditors.
The trustee will also verify the identity of the debtor by comparing the debtor's identification (typically a driver's license) to the debtor's social security card. The trustee presides over the Meeting of Creditors. The judge will not attend the Meeting of Creditors. Rather, it is the Chapter 7 bankruptcy trustee who will probe the debtor about the information listed in the bankruptcy documents and about other matters obtained from reviewing financial paperwork provided by the debtor or independently obtained by the trustee. The trustee can be sued by creditors if the Chapter 7 bankruptcy trustee does not properly carry out his or her duties. Some trustees are easier to work with than others. Chapter 7 bankruptcy trustees tend to come in two flavors – attorneys and CPAs.
Usually, it is easier to work with an attorney-trustee. This is because the attorney-trustee is more likely to not pursue relatively small claims against the debtor, whereas it is more likely that a CPA will take a hard line and pursue all claims both large and small. But there are exceptions to this generalization, of course. In Arizona, there are under 20 Chapter 7 trustees in the Maricopa County area. Many have been trustees for a long time and are very good at what they do. Sometimes, a trustee, even if he/she is an attorney, will need to hire an attorney to represent the trustee in claims against the debtor, third parties, and/or creditors.
An example of this is if an asset was transferred to a third party within two years of the bankruptcy filing. The bankruptcy trustee will likely file a lawsuit against that third party for the turnover of that asset. The trustee will not do this himself. Rather, he will hire another attorney to do this for him. And that attorney will get paid from the sale proceeds of the asset that is recovered. This is just one example of a situation where a Chapter 7 trustee will hire counsel to pursue claims on behalf of the creditors as a whole. Trustees also examine creditor's claims to proceeds.
For example, if assets are recovered against the debtor or a third party, the trustee will sell the asset and then distribute the money to the creditors in that Chapter 7 case. Before doing so, the trustee will require that any creditor who wants a piece of the proceeds file what is called a "proof of claim" form, with supporting documentation such as statements, invoices, contracts, and other proof of exactly how much money is due. The trustee will then pay each creditor a portion of the proceeds.
How Much Does A Person's Downward Financial Spiral Impact A Chapter 7 Bankruptcy Case?
Typically, the bankruptcy judge and bankruptcy trustee will not be interested in the reason why you need to file for bankruptcy protection. The analysis is just a cold, hard look at your financials to see if you qualify and if so, whether any property can be seized from you or any third parties you have dealt with in the past. Sometimes, the reason for filing will matter greatly, but this is mostly limited to business bankruptcies. For example, in Chapter 11 bankruptcies, the creditors and judge will want to know what caused your business to need bankruptcy protection and how things will be different in the future that will make your reorganization plan feasible.
For most individuals, it really doesn't matter why you filed for bankruptcy protection, at least in Arizona. As you should know by now, there are often exceptions to general rules. One of the exceptions to the general disinterest in why you are seeking bankruptcy protection is if you are filing serial cases. Sometimes a person will file a case and it will be dismissed for various reasons. If you file again – and especially if your case has been dismissed multiple times in the recent past – you will probably have some explaining to do. It is hard to provide an example that will apply broadly, so this is a situation that especially must be carefully analyzed by your Arizona bankruptcy attorney.
Clients, on the other hand, often feel very bad about having to file for bankruptcy protection. They will want to explain their reasons, in order to demonstrate that they are not bad people and they were in over their heads for reasons beyond their control. Indeed, virtually every person Mr. Thomas has talked to was not gaming the system. They often were doing fine for many years but then something major happened that set them back, such as a major illness (and associated medical debt and/or loss of income), loss of a job, a business that could not survive, a bad experience in the real estate downturn a decade ago, or other reasons that resulted in debt so massive that they just cannot reasonably expect to pay it all off in the next several years or beyond.
Mr. Thomas does not judge any client. He is here to help people obtain the financial freedom so that they can better take care of themselves and their families. The stigma of bankruptcy has eroded greatly over the past few decades. Over a million people file for bankruptcy protection each year. You should not beat yourself up because you need some financial relief. Corporations will use bankruptcy if it best serves their interests. If these non-living entities are allowed protections under the law, you surely should at least receive the same benefit. Please call our office for help. Mr. Thomas is easy to talk to and will calmly walk you through the process toward a better financial future.
For more information on Role Of A Trustee In A Chapter 7, an initial consultation is your next best step. Get the information and legal answers you are seeking by calling today.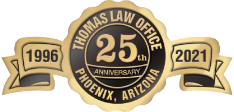 Serving Phoenix, Scottsdale, Mesa, Tempe, Paradise Valley, Glendale, Peoria, Surprise, and the Greater Phoenix, Arizona Metropolitan Area