Phoenix Bankruptcy Attorneys Describe How Bankruptcy Works
February 5, 2015
Being unemployed, suffering from a serious medical condition, making a bad investment or going through a divorce can cause a major upheaval in your financial circumstances. When you aren't able to pay your bills, you may find yourself drowning in debt. Bankruptcy was created to give people a fresh start. Phoenix bankruptcy attorneys can explain your rights and help you figure out if bankruptcy is the right solution for you.
Filing for Bankruptcy
One of the major benefits of filing for bankruptcy is that an automatic stay provision protects debtors from creditors. According to the automatic stay, creditors must stop foreclosure proceedings, property repossession, lawsuits, phone calls, wage garnishment and other attempts to collect payment of debts. If creditors violate this provision, the Phoenix bankruptcy attorneys representing you can request that the creditors be sanctioned by the court.
Debts Eligible for Discharge
When the bankruptcy court discharges a debt, you are no longer required to pay it. Creditors are permanently prohibited from demanding payment for discharged debts. Debts that are often discharged in a bankruptcy case are unsecured debts such as credit cards, medical bills, personal loans, deficiency balances for repossessed property and certain civil court judgments.
Non-dischargeable Debts
Individuals remain responsible for debts that aren't discharged by the court. Non-dischargeable debts in a bankruptcy case may include child support, alimony, court fines, debts incurred through fraud, personal injury judgments related to drunk driving, student loans (unless it imposes severe undue hardship) and debts not listed in the bankruptcy petition.
Contact Phoenix Bankruptcy Lawyers for Legal Advice
Dealing with an overwhelming amount of debt can be stressful and may jeopardize the financial future of you and your family. The attorneys at Thomas Law Office, PLC, use their expertise to assist clients with their debt problems and guide them through the bankruptcy process. Call us at (602) 788-1395 to schedule a private consultation.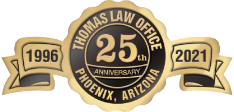 Serving Phoenix, Scottsdale, Mesa, Tempe, Paradise Valley, Glendale, Peoria, Surprise, and the Greater Phoenix, Arizona Metropolitan Area