Will I lose my car in bankruptcy?
November 10, 2014
If you are using the Arizona exemptions, a married couple will be able to keep two vehicles provided that the equity (not the value of the car, but the value of the car minus the loan balance) in those cars does not exceed $10,000 (up to $5,000 per car). If there are more than two vehicles, a married couple may be able to keep all of them in certain circumstances. If you are one of those people who needs to pass the means test in order to qualify for a chapter 7 bankruptcy, having a car payment will help you to pass that means test.
Whether you will lose your car in an Arizona bankruptcy case also depends on whether Arizona's exemptions will be used. Assuming the Arizona exemptions will be used, a married couple may keep up to two vehicles that have not more than $10,000 in equity (up to $5,000 per vehicle). A single individual may keep up to one vehicle that has not more than $5,000 in equity. Equity is the key, not value. Suppose your car is worth $30,000 but your car loan balance (assuming the loan is properly secured by the vehicle) is $31,000. In that case, your vehicle has zero equity so you would be able to keep that car as long as you remain current on your payments. See the discussion on reaffirmations for more information about how secured loans are affected by bankruptcy. If you are filing a chapter 13 bankruptcy in Arizona rather than a chapter 7 bankruptcy, you will not necessarily lose the vehicle even if your vehicle has more than the allowed equity. This is because a chapter 13 involves payments to creditors and if you will be paying out more than the value of what you would lose from seizure of your car in a hypothetical chapter 7 case in Arizona, you should be able to keep your vehicle despite the fact you have exceeded the Arizona exemption limit for that vehicle.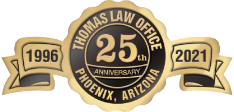 Serving Phoenix, Scottsdale, Mesa, Tempe, Paradise Valley, Glendale, Peoria, Surprise, and the Greater Phoenix, Arizona Metropolitan Area