Don't Be Too Trusting! | Family Law Attorney and Divorce Lawyer for Men
June 19, 2015
I belong to a listserv for Arizona family law attorneys. The listserv is useful for Arizona family law attorneys to share non-confidential information, ideas, and best practices. Attorneys on this listserv ask questions to each other and get a variety of inputs from fellow practitioners. I'd like to share with prospective male clients an example of why you should not be too trusting, by examining this (edited) question that was posted to the listserv:
"The marital residence was acquired by the parties in 2015. The property was titled in both parties' names, but the mortgage was taken out in Husband's name alone. Husband entered rehabilitation early so that he could address an underlying addiction as an effort to save his marriage. While husband was in rehab, Wife approached him and told husband that she was struggling to trust his commitment to their marriage but that if he would sign over the marital residence to her that would convince her that he was committed to saving their marriage. Desperate to keep his family together Husband executed a QCD (Quitclaim Deed) on May 22, 2017 conveying the property to wife as her S and S (sole and separate) property. To his utter shock and dismay, TWO days later Wife filed her Petition for Dissolution. Wife did not record the deed until May 26, 2017. Can husband still claim a CP interest in this property, rather than just a claim for an equitable lien?"
Guys, this kind of thing happens far more often than you think. This poor guy trusted his wife and believed that she was interested in saving their marriage. What she was really interested in was defrauding him out of his home. If I were representing this duped dude, I'd argue that the fraud, and his presumably diminished mental capacity while in recovery, are defenses to the deed. But there's no guarantee a judge would agree with me. These are the kinds of things people fight over in court. So be smart: if your relationship is on the rocks, do not make any legal decisions without first consulting with an experienced Arizona Divorce Attorney. Call us now for a consultation if you have questions about what you should do in your situation. With over two decades of experience, Mr. Thomas can steer you through the minefield to safety.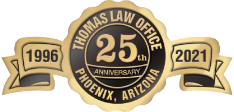 Serving Phoenix, Scottsdale, Mesa, Tempe, Paradise Valley, Glendale, Peoria, Surprise, and the Greater Phoenix, Arizona Metropolitan Area