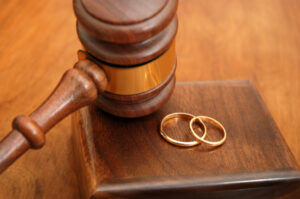 The law views a marriage as a separate entity called the "community." Both spouses share equal rights in the community: equal rights to community property assets and equal access to community financial documents and records.
Arizona is a community property state, which means property, including income and real property, acquired during the marriage belongs to the community. The law also distinguishes other types of property, e.g. separate property. The Thomas Law Firm's Phoenix divorce attorneys will thoroughly counsel you regarding the various categories of property as applied to your dissolution.
When a dissolution commences, and sometimes beforehand, one or both spouses may begin hiding property to avoid sharing it with the other once the marriage is dissolved. The law strictly prohibits hiding assets pending a dissolution.
THE LAW PROHIBITS CONCEALING ASSETS
When a spouse files a Petition for Dissolution of Marriage with the court to obtain a divorce, the Petitioner (the filing party) must disclose all property owned and its value, including community and separate property. Petitioner is also required to file, and later formally deliver or "serve," Respondent (the other party) with a Preliminary Injunction, which is a court order prohibiting certain conduct. The Injunction applies to both spouses and prohibits the following while the dissolution is pending:
The parties may not hide earnings or other community property from the other.
The parties may not take a loan against community property.
The parties may not sell, transfer, mortgage, or dispose of community property.
Respondent is also required to disclose all property when filing a Response to the Petition. If Respondent fails to file a response, the case proceeds without Respondent's participation.
If either party violates the Injunction, the court may find the violator in contempt of court and may impose sanctions (fines) and possibly jail time.
If you must face a deposition during the divorce, your former spouse's attorney may ask you specific questions about your lifestyle and any debts you have accrued. Watch this video to prepare yourself for some of those potential questions.
RETAINING LEGAL REPRESENTATION
Please consult one of our firm's Phoenix divorce lawyers to explore your legal rights regarding asset division and your legal remedies in the event your spouse violates the Preliminary Injunction. Mr. Thomas will strategize with you to uncover assets, including retaining experts such as private investigators and forensic accountants.
The Thomas Law Firm's Phoenix divorce attorneys possess the skill and knowledge to obtain an equitable and successful result to your dissolution.