WHAT IS AN UNCONTESTED DISSOLUTION?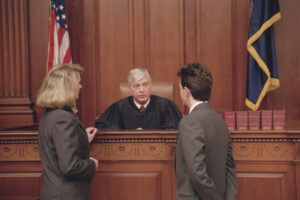 Dissolution is the legal term for a divorce.  Dissolutions tend to be contentious, and the parties frequently disagree on at least one issue, and sometimes all issues, such as debt and property division, child support and/or custody if children are involved, and spousal maintenance.  In some instances, however, the parties agree on all aspects of the dissolution, which makes the divorce uncontested.
Although an uncontested dissolution is simpler than a contested one, there are still legal procedures that must be followed precisely.  A Scottsdale divorce lawyer can best guide you through the process.  Ronald V. Thomas is a highly experienced family law attorney who has successfully represented petitioners and respondents in uncontested dissolutions.
UNCONTESTED DISSOLUTIONS: THE LEGAL PROCESS
The procedure for initiating an uncontested divorce is the same as with other divorces.  The Petitioner (the filing party) must file the Summons and Petition for Dissolution of Marriage, and other related documents, with the court and formally deliver, or "serve," them to Respondent (the other party).  Respondent is required to file with the court and serve on Petitioner, within a specified time, a response to the Petition.
Even though Respondent agrees with the dissolution, he or she should still file a Response to preserve his or her legal rights.
Once the documents have been served, the parties are required to wait a specified time period before submitting to the court a notarized Consent Decree executed by both parties.  If children are involved, the court also requires Petitioner and Respondent to attend a Parenting Information Program.  The Consent Decree must be complete and accurate – otherwise, the court is likely to reject it, thus delaying the process.
The court has discretion to sign the Consent Decree and finalize your dissolution, or to schedule a hearing first.
CONTACT A SCOTTSDALE DIVORCE ATTORNEY
Uncontested dissolutions are typically smoother and more cost-efficient than contested dissolutions.  However, you should consult a knowledgeable and reputable Scottsdale divorce lawyer to protect your legal interests and ensure you are receiving a fair and favorable settlement.  Mr. Thomas will also ensure all the necessary documents are accurately prepared, filed with the court, and served on the other party to expedite your uncontested dissolution.